ONSTAGE
I didn't actually begin singing until high school, when my parents came to see me in a play and decided to get me some voice lessons.
When I went to my freshman orientation at the University of Arizona, I had to take a test on my likes and interests and all of the sudden I found myself a Musical Theatre major. 
My first day of Musical Theatre class, the professor told me that everyone there auditioned to be in the program and that I should have as well.
He said "bring a song tomorrow to sing for the class and then I will tell you if you can stay". I scrambled to find a song, and listened to it over and over to hopefully memorize it in time. I chose "Small World" from Gypsy,  which is actually sung by a man in the show, another faux pas I knew nothing about at the time.  I nervously sang it for the class, acapella, and he said "OK, you can stay." I graduated from the University of Arizona with a BFA in Musical Theater 4 years later.
Some of my credits include: Closer than Ever (2013 MAC Award Winner: Best Actress in a Musical), The Full Monty(Georgie), BARK (Goldie), The Marvelous Wonderettes (B.J.), Sunday in the Park with George(Celeste #1), and Songs for a New World (Woman #2). 
Some Onstage Moments…..
Closer than Ever-2013
Winner-Best Actress in a Musical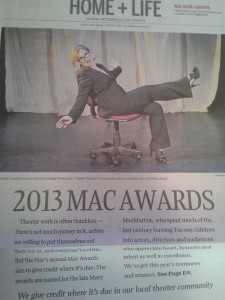 "The Mac goes to Liz Cracchiolo for her performance in 'Closer Than Ever.' She has attitude, a beautiful voice, and a strong comedic sense, and they all came together in this moving production."
The Marvelous Wonderettes-2012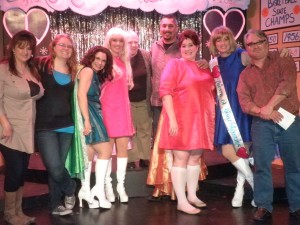 Songs for a New World-2008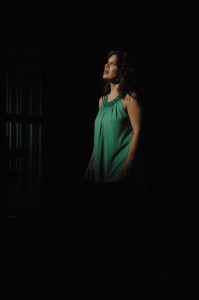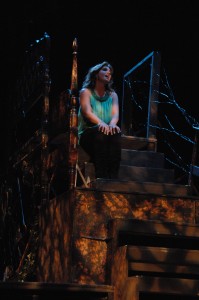 Sunday in The Park With George-2008
Bark-2007
The Full Monty-2007
 Photo Credits:
 Bark, Full Monty: Kenn Jensen
Closer Than Ever, The Marvelous Wonderettes: Patrick McArdle
Songs For a New World, Sunday in the Park with George: John Bae